Gaining Technical Skills in a Blended Environment
mautushi
A Technically Skilled Workforce
Parents need to understand that kids today are going to be competing for jobs that require technical skills, like computer programming and coding with a global workforce. This means they will have to gain these skills either on their own or through self-teaching and formal education.
The world is changing. The jobs of the future are being created in technological fields. As parents, we want what's best for our children and one way to give them an edge over others is to equip them with technical skills from an early age. In this blog post, we will share some ideas on how you can teach your child programming and other technical skills at home!
It's Time for Blended Learning
Kids need tech-savvy skills to be successful in today's society and the sooner they start learning these essential 21st-century skills, the better! The reality is that technology isn't going away. Your children will be completing most of their schoolwork digitally, using digital tools to get ready for the workforce and they will even spend a good chunk of their free time in front of screens.
As much as you may love your child being outside playing or reading books, there are many other things that your child will be bound to do with technology. It's all about finding new innovative ways to provide your child with blended learning tools such as educational kits to equip them with the necessary skills.
5 Reasons Why Your Child Needs Technical Skills
Workers in some positions used to be able to get by with only the specific skills connected with their trades or industries. But the job landscape has evolved dramatically since then. As a result of the transition, all children will need to learn some level of technical skills and abilities to be a part of the global workforce and succeed in their chosen careers.
Here are 5 reasons why technical skills are rather important for your child.
Technological Skills are Required For Most Jobs
According to multiple studies, technical skills are required for the majority of jobs. Whatever job path children select, they will almost certainly need some tech abilities, preferably sophisticated ones.
According to a Brookings analysis from 2017, the number of employment requiring high and medium-tech skills has increased, while the number of jobs requiring only low-level tech skills has decreased.
Furthermore, the European Commission conducted a separate examination that came to similar conclusions. It stressed the importance of digital skills for workers and confirmed that when employees lacked digital abilities, the problem had a detrimental influence on the organization's performance.
Technical Skills Allow Children to Think Out-of-the-Box
Children with technical skills are more likely to consider what is possible. Students will need tech skills to succeed in their future careers, but the benefits of knowing how to use technology begin long before they enter the industry. Problem-solving, following instructions, and communicating are all qualities that technical skills help them develop.
In addition, students can use technology as a springboard for career education, highlighting the various types of jobs that are available. By focusing on job education activities such as bringing in professionals from the workforce to talk to kids and answer their concerns, or organising field trips to local firms where children could work someday, an educator can play a significant part in their career development.
Technical Knowledge can Influence Gender Gap
It's common knowledge that women make up a smaller percentage of the tech workforce than men, and research suggests that early education could help overcome the gap. More precisely, if females are exposed to STEAM-based blended learning at a young age through specialised classes or organisations, they may be exposed to a world of employment prospects that they might otherwise be unaware of.
It emphasises the importance of connecting those subjects to real-world demands, as well as parental engagement and support. In September 2014, the Harvard Business Review published an article that focused on parenting skills and the need for children to learn basic technical skills as a way of life.
Interest in Tech can Increase A Child's Curiosity
Whether children learn about technology by putting together little robots or learning how to do something new on a computer, a fascination with technology encourages them to ask questions and generate a desire to learn more. Many of the world's greatest inventors came up with their ideas after observing problems and pondering solutions. Instead of simply accepting things as they are, a child with a technically skilled background will likely begin to consider how technology may improve things, and perhaps even how they can be part of the solution.
Technological Skills Build Ambition
Other skills, aside from those related to technology, educate kids how and why it's important to keep their eyes on the prize. However, learning about technology or using technology as a learning method may underline why quitting early is not a good option. When a child learns a new programming language or grasps the fundamentals of a graphic design programme, they are engaging in activities that require them to work hard and observe gradual progress toward a goal.
Conclusion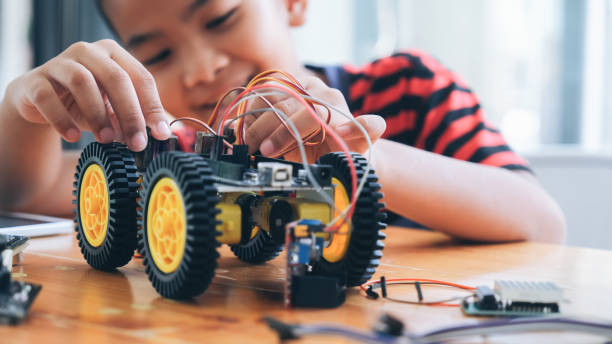 While parenting has its challenges, it is important to note that technology plays a valuable role in how kids learn and what they achieve. Blended learning is one of the first steps toward a more child-led education that uses technology to inform students about various subjects.
Implementing blended classes into our own homes is not an easy task, but with MySparklebox educational toys, it can get extremely interesting! It's never too early to start teaching your kids about technology. The technical skills they learn now will help them succeed in the future, and it can also teach you a thing or two as well!
Happy learning!
Also read…
How Educational Toys for Kids Influence Their Life
Trick to Memorize Multiplication Table